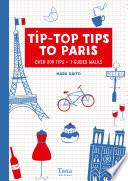 Tip-Top Tips to Paris (in english)
Auteure: Mark GAITO ,
Nombre de pages:
106
The first guide published in Paris in English, to help visitors to discover the City of lights as if they were being led by the hand ! Le premier guide publié en France, en anglais, pour faciliter la vie des touristes à Paris ! With Tip-Top Tips to Paris, go step-by-step, as if being led by the hand, on seven incredible walks through a city that's just brimming with a seemingly endless array of riches, wonders and delights! Compiled from over twenty years of hard-won knowledge and personal experiences, the more than 200 tips found in this guide will help you to move around, shop, eat, explore, discover or get to know the city of Paris, both inside and out, as good, if not better, than many of the people living in it! The dozens upon dozens of QR codes in the guide will also provide you with instant access to the kind of up-to-date information that most people need when either planning their trip or especially while they are on it. Qu'est-ce qu'un TIP en anglais ? Tip = un conseil d'ami Tip-Top = excellent ; premier choix Ce sont des " Bons plans ", des recommandations et des petits " trucs " et que l'auteur, Mark Gaito, Américain installé à Paris depuis 20 ans, propose à...